Book Review - Middle Age-ish by Shirley Goldberg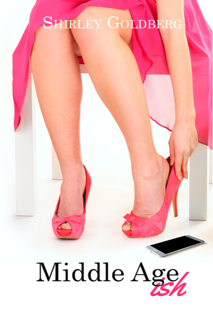 Shirley Goldberg - Middle Ageish/Romantic Women's Fiction
Middle Ageish and Researching Online Dating
Many thanks to Teresa for hosting me on her lovely blog.
I'm a newbie author, and today is the worldwide launch of my novel.
So why a book about a woman who starts over, moves from Paris, France to New Haven, CT, goes back to school, and online dates?
My friends asked the same question. Since the book's heroine, Sunny Chanel, is online dating, they sneak in a few questions when we're enjoying a virtual happy hour. "How much is autobiographical?" "Was that a true story about the 300-pound man Sunny dated?" "Did you really go on six meets in one week?"
Sure, there's a bit of me in Middle Ageish, but making fiction and turning experience into a belly laugh is much more fun than humans should have. And I'm having the time of my life, pumping my checkered past for "copy" as Nora Ephron (or was it her mother?) calls everything that's story material. From a trip to Walmart where an old guy mistakes your shopping cart for his (Subtract twenty years and turn that into a Meet Cute scene?) to an online meet with a guy who's got the sort of beard that catches in his zipper, my mind clicks and grinds, always on the chase for a story.
And, yes, I used to hide my pocket journal in my overlarge (for a date) handbag and scribble notes in the ladies' room midway through a date. Isn't that why someone invented that cliché, the devil's in the details? I sat through dozens of first-meets where guys talked about themselves for forty-five minutes straight and never asked me any questions, or somehow thought I'd be googly-eyed with mirth at their date-from-hell stories.
So when I wrote about Sunny sneaking off to the restroom to jot down thoughts during her dates, well, yes, I did do that. Sometimes, I'd even call a friend for advice. From the toilet, I'm admitting it. Let's call him Peter, and say he's got world-class experience in the dating department. He's real, and he's on my website.
And I still have that little packed-with-memories journal.
Excerpt from Middle Ageish
I slouched at my computer and peered at the screen. The letsclick.com dating site was becoming my best friend.
The first email in the lineup was from Luke. Soulmate Guy, I called him, because he was the first who'd talked about the soulmate thing—even though there were 7,000 other guys online clamoring for a soulmate.
Cute, too, with Jeff Bridges hair. Jeff still had hair, didn't he?
A popcorn sound startled me––newbie dater that I was––and a cartoon bubble appeared on the screen with Luke's image. Would you like to chat with Luke?
Well, that was a dumb question. I hit the yes button. Yes, yes I would. Chat was the site's version of texting and this was my first time.
—Luke: Hey, got a few minutes? This messaging is friendlier than old school emails. How goes it? Back from vacation. Went to the island. So different there in the winter. Beautiful in a different way. Just came home from doing a little bar dancing. I stayed about an hour. Every once in a while, I do that on a tense night. This was my tense night.
—Sunny: Tense, shmense. What's wrong?
—Luke: One of those old girlfriend things. We have a lot in common—biking, riding, skiing, and some total madness thrown in, but she doesn't give me space. It's complicated.
— Sunny: What's with the old girlfriend thing? If you'll be so kind as to be my dating mentor, I have a question. Dating mentor, is it wise to redate old girl/boy friends?
—Luke: Absolutely not, are you nuts? My prob is I don't like being alone. I like sharing things with someone.
—Sunny: So what is it you look for in a woman? Really, I'm not fooling around here.
—Luke: I know you're not. I'm taking your question seriously. Well, I'm past craving the 30 year olds with zero body fat and total flawless skin. That is a truly good thing since I'm 54 and they wouldn't want me anyhow. But our bodies are important, the only one we have, so I can't pretend I don't care about the shape a woman is in. I like smiles, legs, arms, necks. You get the picture. Oh, can't forget that erotic zone called the mind. That's most of it.
—Sunny: Wow!
—Luke: I can't stand it anymore. I'm signing off here so I can call you. Give me your phone number. Please. Now—
About the Author
Shirley Goldberg is a writer, novelist, and former ESL and French teacher who's lived in Paris, Crete, and Casablanca. She writes about men and women of a certain age starting over. Her website http://midagedating.com offers a humorous look into dating in mid life, and her friends like to guess which stories are true. Middle Ageish is her first book in the series Starting Over. Her character believes you should never leave home without your sense of humor and Shirley agrees.
Visit my website for another excerpt from the book. Sign up and grab a copy of Happy Hour, a short story about an online meet and a tiny misunderstanding.
MY SOCIALS:
https://www.facebook.com/midagedating
https://twitter.com/mylifeasadate
https://www.instagram.com/shirleygoldbergauthor/
BUY MIDDLE AGEISH AT YOUR FAVORITE BOOKSTORE:
Amazon: https://tinyurl.com/yxcqystg Middle Ageish
APPLE https://tinyurl.com/y37cbc5u
Nook/Barnes and Noble: https://tinyurl.com/yyuwpq6o
https://www.goodreads.com/book/show/54758920-middle-ageish
https://www.bookbub.com/profile/3531427862?list=following