Good Morning Mariposa Beach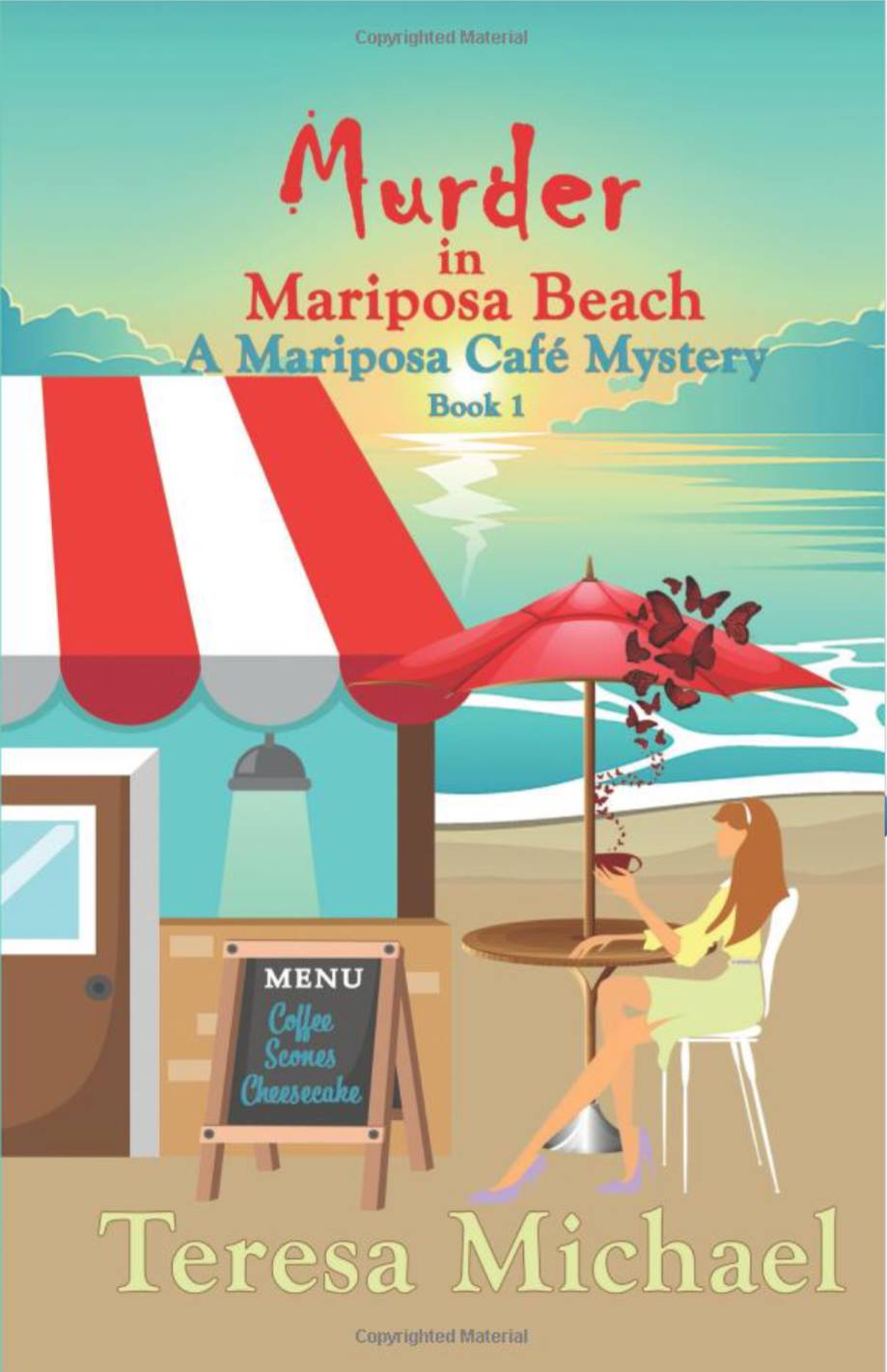 Hello, this is Tiffany Bartholomew, and today I'm reporting from the Mariposa Café and Bakery in the lovely little town of Mariposa Beach. I'm with the owners of the café, Libby Marshall and Mimi Rutherford. (They are standing in the middle of the main café. Libby and Mimi are wearing Mariposa Café attire – T-shirts and embroidered aprons)
TB: This is such a cute little place. There's so much light, and I love the tables in the courtyard around the fountain.
The camera pans around the cafe's interior showing the brightly painted tables and chairs, a display case of baked goods, a yellow piano, a sofa, TV, bookshelves, and an internet cafe. Beyond the sliding glass doors, black bistro tables and bright umbrellas circle the mermaid fountain in the courtyard. The camera returns to focus on the reporter.
How did you decide on the décor?
Mimi: We wanted our café to be bright and cheery, a place our customers would want to come in and enjoy a cup of coffee. We found great pieces at resale shops and garage sales, and then we sanded and painted them.
Libby: We were on a budget. It was cheaper to do it ourselves, and we had a lot of help from our friends in the community.
TB: Are you Florida natives, or did you come to Florida from someplace else?
Mimi: I'm Florida born and raised. I grew up in Tallahassee. My parents taught at Florida State University.
Libby: I was born and raised in Cincinnati.
TB: How did you two meet?
Libby: I was in town for one of the spring art shows. Mimi accosted me at the Veranda Bar across the street.
Mimi: She looked like she was from out of town, so I asked her opinion about the location. This building was empty at the time. I was trying to decide if I should just go for it or let go of my dream of opening a café.
Libby: I started out helping Mimi with her business plan, and then we decided to become partners. Mimi's the genius behind all the delicious food. She trained in France and at the Culinary Institute of America. I work in the café and take care of operations.
TB: You've had some excitement around here. Last year the café was vandalized, and you were closed for a couple of months. What happened there?
Libby: We were broken into by people who thought that a sales representative had hidden some incriminating files on our computers. In fact, there were at least three local businesses vandalized by the same people because we shared the same sales rep. It took us a couple of months to put everything back together again.
TB: That must have been scary. Mimi, I heard that you found Libby unconscious.
Mimi: That was a scary night. When my husband and I got to the cafe, the police had just arrived. We found Libby unconscious in the parking lot. Those terrible men had hit her over the head as they escaped.
Libby: I was just dazed.
Mimi: You had a concussion.
TB: Did the intruders get the computer files?
Libby: As it turns out, the files were not on our computers. And, as far as I know, the whereabouts of those files are currently unknown.
TB: How mysterious. Speaking of mysterious, did I hear something about the discovery of an old skeleton inside a wall at a local art gallery? What a shocking discovery! Can you ladies elaborate on that?
Mimi: That was at The Devereaux Gallery on the next block. You probably saw it when you were driving in. It used to be Eleanor's Gifts until Eleanor had a stroke right there in the shop in front of these Canadian visitors.
Libby: Last November, I was helping Steve Devereaux pull down some drywall when we discovered a tarp within a framed in compartment. Inside the tarp was the skeleton of a young woman killed forty years ago.
Mimi: You should stop by the gallery and see the portrait Steve painted. She's beautiful.
TB: A portrait of a skeleton? Did you do some kind of facial reconstruction?
Mimi: Oh no, nothing like that. Our friend Rachel owns the Mariposa Mystic across the courtyard. She smudged the space to cleanse it of any negative energy and replace it with positivity.
TB: Smudge?
Mimi: Yes, and during this cleansing process, Rachel had a vision. Steve painted the portrait based on Rachel's vision of this girl.
TB: (Seems to be developing an eye twitch) Visions? And do you know who this person is or was?
Libby: We have a theory but no proof. We haven't found her family and, therefore, unable to obtain comparison DNA. Steve calls her Melanie.
TB: (clears her throat) Moving on. Have you met the famous New York director, Jerry Mann, here in town to direct The Drowsy Chaperone at Sunset Theater? I hear he's staying at The Mariposa Inn across the street.
Libby: Yes, he's been in quite a few times. My cousin, David Bailey, is the lead in the play. We're all looking forward to opening night.
An older woman appears in the shot pushing a white Maltese dog in the basket of a walker. The lady and dog are wearing matching pink sun visors, and the dog has a gem-studded pink collar.
Ida: Hey girls. What's today's scone. I hope it's not blueberry that was yesterday. (Ida stops and stares at the camera) Are we on TV? (Ida fluffs her short-cropped curly permed hair)
Mimi: Yes, Ida. They're interviewing us for the morning cable TV show.
Libby: This is one of our favorite and most colorful customers, Ida Sullivan.
TB: (to the cameraman) Let's wrap it up. (Turns to face the camera.) Thank you, Libby and Mimi. The scones today are cranberry-orange, and they're delicious, back to you in the studio.