This Month's Newsletter
Cover Reveal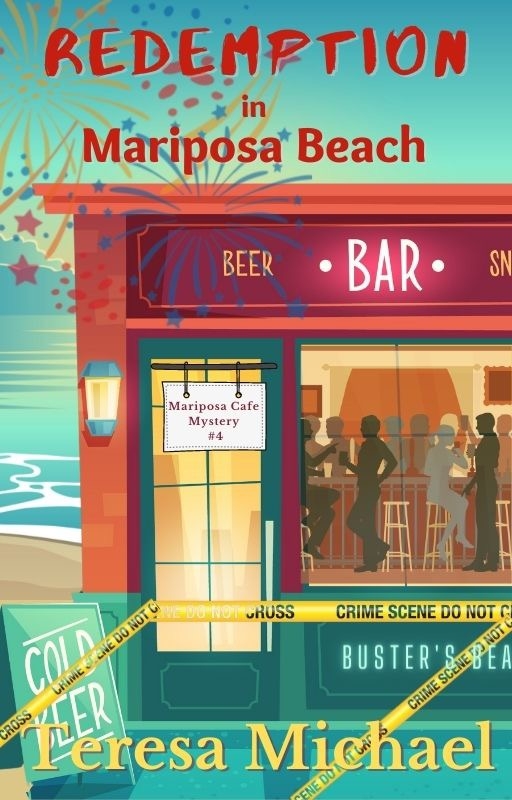 I love the cover for "Redemption in Mariposa Beach," book 4 in the Mariposa Cafe Mystery series. What do you think? The full manuscript (all 87,873 words) is with my editor. I've received good feedback from my advanced readers. So, I'm waiting on pins and needles to see what my editor thinks. I posted an excerpt on Facebook at Teresa Michael - Author, if you want a little sneak peek. Stay tuned to my Facebook author page for more excerpts and updates on the editing process in the coming weeks.

PS - There are also two recipes from Sweet Emotions Desserts included in this book.
Upcoming Promotions: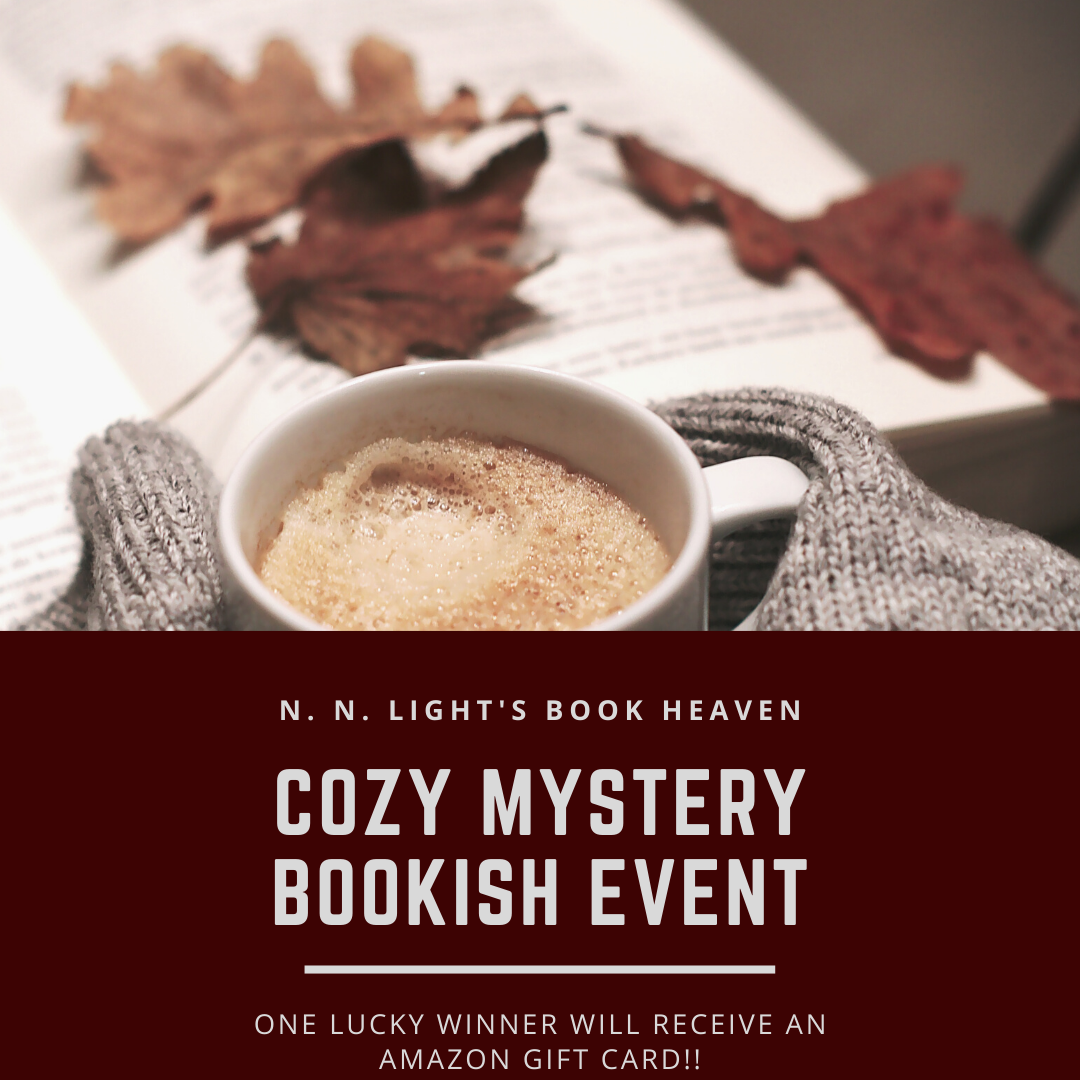 I'm so excited to be a part of @NNP_W_Light's Cozy Mystery Bookish Event. It's Fall and no better time to cozy up with a good book. On Tuesday, October 5th at 10:00 AM EST, I am the featured author with my e-book boxed set of the first 3 Mariposa Cafe Mysteries. The Cozy Mystery Bookish event runs from October 5th through October 14th. Check-in every day to see all the featured authors and their cozy mystery books. Don't forget to enter the giveaway to win a $25 Amazon gift card: https://www.nnlightsbookheaven.com/cozy-mystery-bookish-event. The winner will be drawn on October 15th.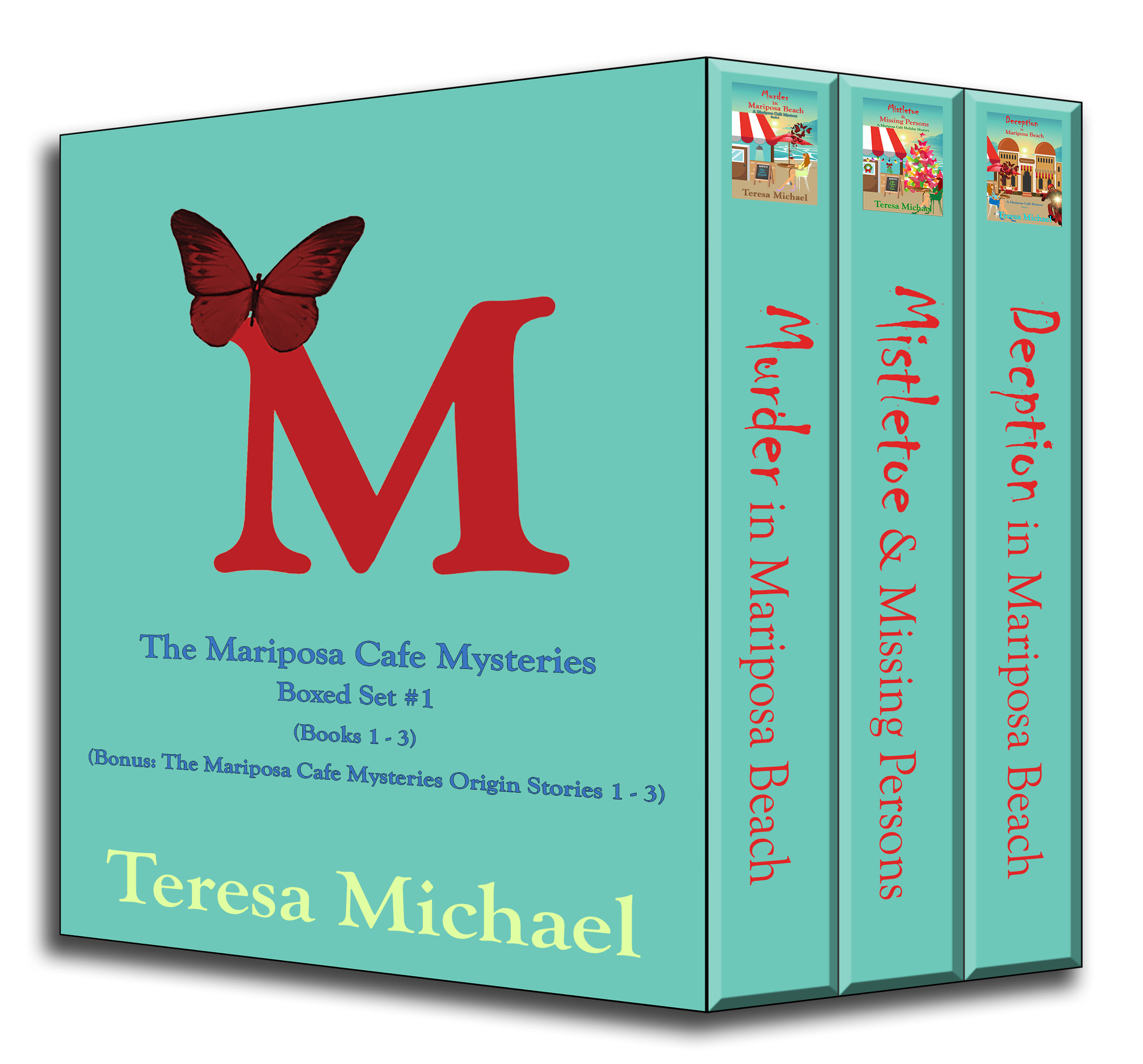 FREE
In addition to being a featured author in the above N.N. Light Cozy Mystery Bookish Event, on October 5th and October 6th, my 3-book boxset will be FREE on Amazon. What a great way to get caught up on all the adventures of Libby and her quirky friends in the Southwest Florida beach town of Mariposa Beach. You'll be ready when Redemption in Mariposa Beach is released in just a few weeks. Here's the Amazon link.
https://www.amazon.com/Mariposa-Cafe-Mysteries-Boxed-Set-ebook/dp/B08R7YNFV5/ref=sr_1_7?dchild=1&keywords=Mariposa+Cafe+Mystery+Series&qid=1633367818&sr=8-7
What I'm Working On Now
In addition to editing and revising Redemption in Mariposa Beach, I've started researching and working on my new series, the Harrington House Mysteries. In June, my daughter, Becky, and I went to Cincinnati to visit my daughter. Tina, and my granddaughter, Luna. We hadn't seen each other (except on video calls) in almost two years due to the pandemic. I was so happy that the four of us could spend some time together.

We stayed at the historic Netherland Plaza Hilton, an art deco treasure. I also did some research for my new series set in a bed and breakfast in an Ohio River town. A brother and sister inherit the old family mansion, and instead of selling out, they decide to open a bed and breakfast. There's also a resident ghost. The first book in the series is Murder in the Terrace Room. The plan is for this book to be released next summer. I'm naming one of the rooms, The Art Deco room!

While in Cincinnati, we did lots of fun things including feeding the giraffes at the Cincinnati Zoo, the butterfly exhibit at the Krohn Conservatory, a carriage ride, and brunches and dinners with family and friends. I sorely needed this time. This is a picture of us at the Krohn Conservatory in Cincinnati's Eden Park.
What I've Been Reading
So far this year, I've read 72 books. You all know how much I love series. I've read all the Louise Penny Inspector Gamache series including the recently released The Madness of Crowds. The series is set in Three Pines, a village in the Eastern Townships of Quebec just over the Vermont border. The pandemic is heavily featured in the latest book and raises questions that required a bit of thinking. If you're interested in reading this series, start with book #1 Still Life. Louise Penny is a master in character development and each book builds on the next. You'll grow to love Three Pines and all its residents just like I have. I've also been catching up on other series books I've missed. I have only two unread books in the middle of John Sandford's Prey series and I have yet to finish two Sue Grafton novels, W and Y. I read John Grisham's A Time for Mercy and thoroughly enjoyed that one. We pick up with Jack Brigance from A Time to Kill five years later and he's involved in another "unwinnable" case. I also read Karin Slaughter's latest standalone, False Witness. She's one of my favorite thriller writers.
What have you been reading?
Recent Events
Like many of you, events and trips have been canceled due to the recent surge in COVID cases. I was disappointed when Bouchercon 2021 in New Orleans was canceled and rescheduled for 2024. However, it's looking up. Along with my fellow author, Martha Reed, and 16 other local authors, we were able to attend the Bazaar Book Fair at the Bazaar at Apricot and Lime here in Sarasota. It was great fun and I'm looking forward to more events.
One last Thing
Murder in Mariposa Beach
received the Firebird Book Award in the Mystery Category!
You can always reach me at
teresamichaelauthor@gmail.com
or through my website at
https://teresamichaelwrites.pubsitepro.com
or my Facebook page at Teresa Michael – Author.
Please follow me on Goodreads.
Teresa Michael (Author of Murder in Mariposa Beach) | Goodreads
And if you have a moment and liked my book, please leave a review on Amazon and/or Goodreads. Authors depend on reviews to get the word out about their books. It doesn't have to belong—just a sentence or two and it is greatly appreciated.
If you're not a subscriber, you can sign up for this newsletter by clicking this link:
https://us17.admin.mailchimp.com/landing-pages/edit?id=20644