New Year 2022 Newsletter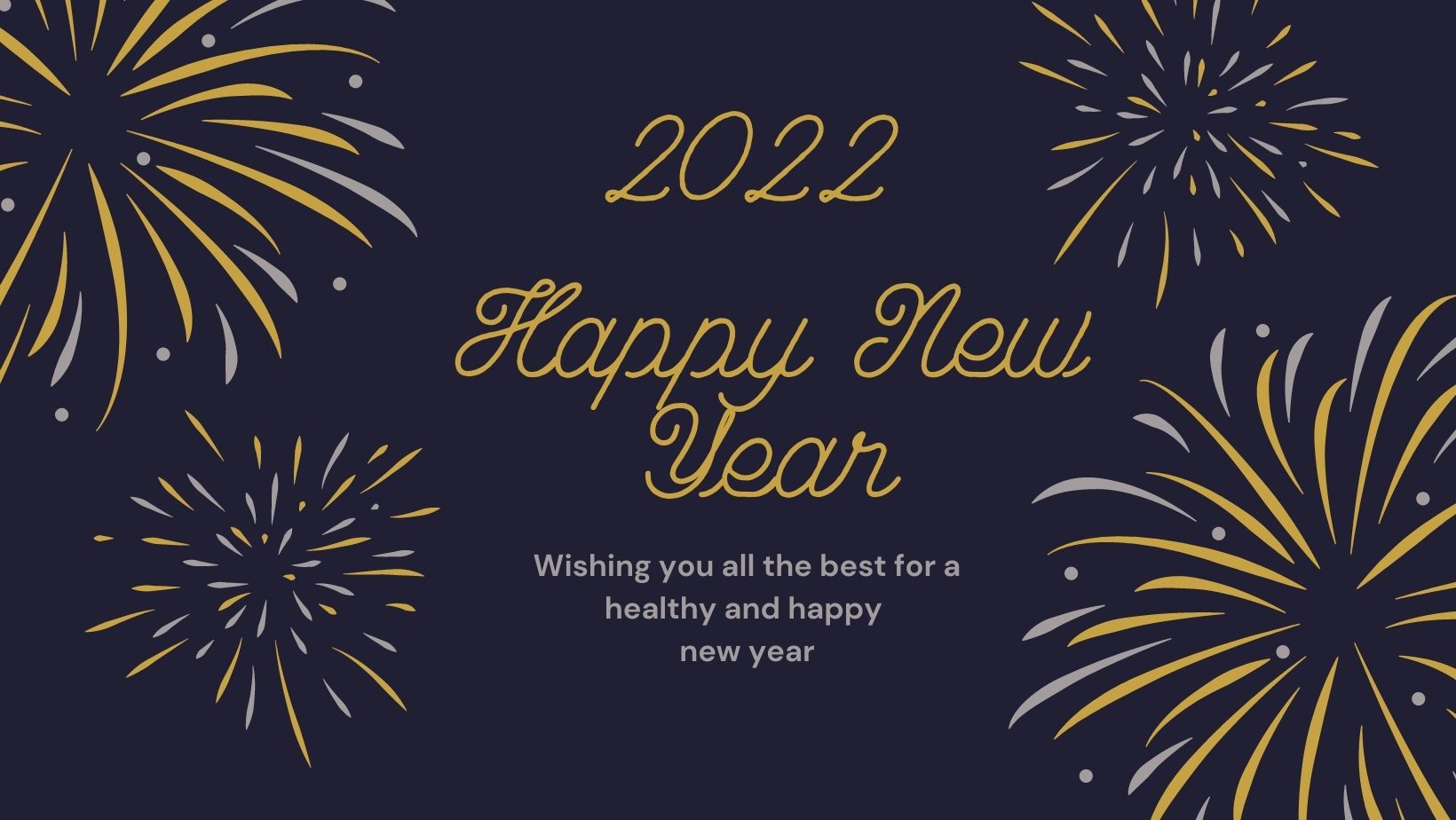 Update on Redemption in Mariposa Beach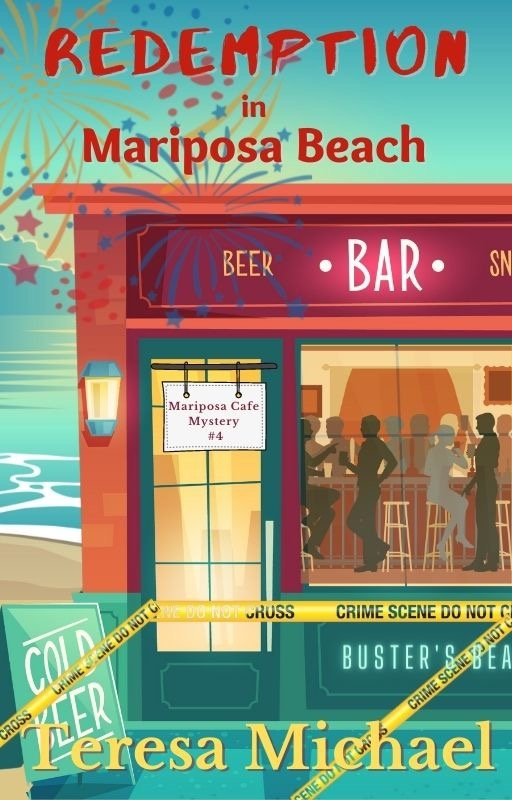 I hoped Redemption in Mariposa Beach would have been released by now. However, the publishing wheels can move slowly. After finishing the manuscript in July, I workshopped it with my writers' group and another critique group. The extra work, revisions, and rewrites made this a better book. It is back with my editor now. I don't have a release date, but I hope early in the first quarter of 2022. Keep your fingers crossed that it's sooner rather than later. In the meantime, you can read a short excerpt here
What I'm Working On Now
I am almost 10,000 words into Murder in the Terrace Room, the first in the Harrington House Mysteries, my new series. Here's a little teaser:
Siblings Kevin and Molly Harrington inherit the old family mansion in a small town overlooking the Ohio River. Instead of selling out, they decide to renovate and open a bed and breakfast. At their first big event, a book launch, the author is murdered in the Terrace Room.
I'm having trouble deciding on a name for the town. Stay tuned for a contest to help me pick a name. Look for updates on my progress on my Facebook Author Page here
Don't worry, I've not forgotten about Libby and Mariposa Beach. I've already jotted down a few ideas for their next adventure, and there might even be a crossover in the works—you know, Libby is originally from Ohio, and Jack has never seen snow.
What Else Have I Been Up To?
It's been so nice to be out and about again. Our Sisters in Crime group had a booth at the Cedar Key Seafood Festival in October. It was great fun, and we met many nice people who love to read mysteries. This event is already on the calendar for October 15-16, 2022.
In November, Cheryl Hollon, Martha Reed, and I did a book signing at the Books at Park Place bookstore at 6800 Gulfport Blvd in Pasadena. It was awesome to be in a book store for a real book signing and Meet the Author Event. Check out Martha's Love Power set in New Orleans and Cheryl's Paint and Shine series set in the hills of Eastern Kentucky, where I spent part of my childhood.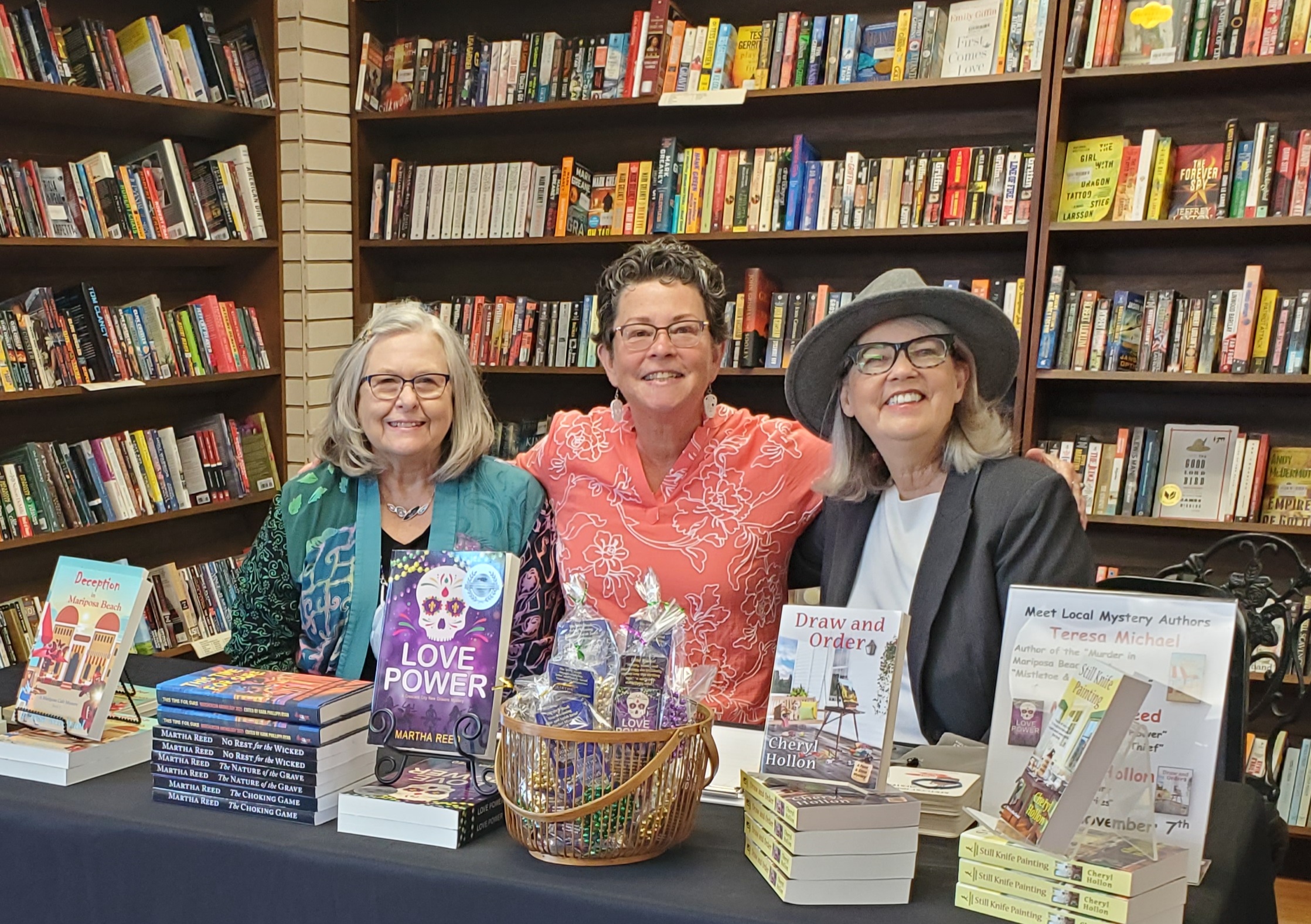 Our local chapter of Sisters in Crime has many interesting events planned for 2022. Martha Reed will be our new president. I'm still on the Board as the Immediate Past President. We plan to attend book fairs, other fun events, and our monthly meetings. If you want to know what we're up to, check out our Florida Gulf Coast Sisters in Crime Meet Up Page Florida Gulf Coast Chapter of Sisters in Crime (Saint Petersburg, FL) | Meetup
I hope you've enjoyed the holidays and hopefully been able to reconnect with family and friends, especially those we haven't been able to see in the last couple of years. My daughter, Tina, and granddaughter, Luna, visited us from Cincinnati over Thanksgiving week. Luna is a big fan of dinosaurs, so a visit to Universal's Jurassic Park was in order. We stayed at Sapphire Falls on the Universal property. Luna loved riding the water taxi to the park and this One Fish, Two Fish Dr. Seuss ride—the loud dinosaurs not so much, but she loved the Interactive area with the hatchling babies.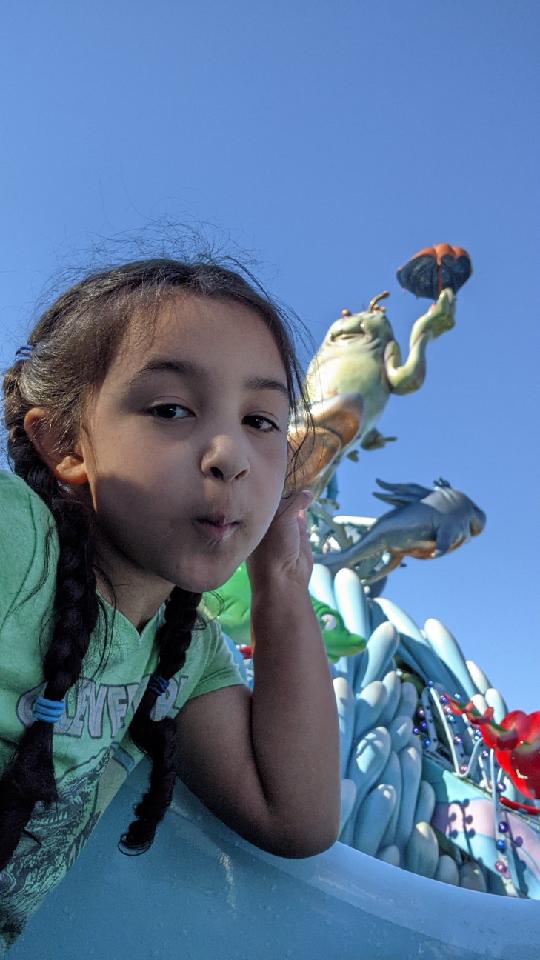 My daughter, Becky, and I went to Epcot and Magic Kingdom in mid-December. We haven't had a Disney Christmas in more than 6 years as she lived in Denver for 5 years before moving back to Florida in October 2020. It was beautiful seeing all the lights. We stopped at the America Pavilion and heard Andy Garcia read the Christmas story during the holiday processional. The weather the perfect, and the music and readings were beautiful. If you have the opportunity to attend the holiday processional at Epcot, I highly recommend it.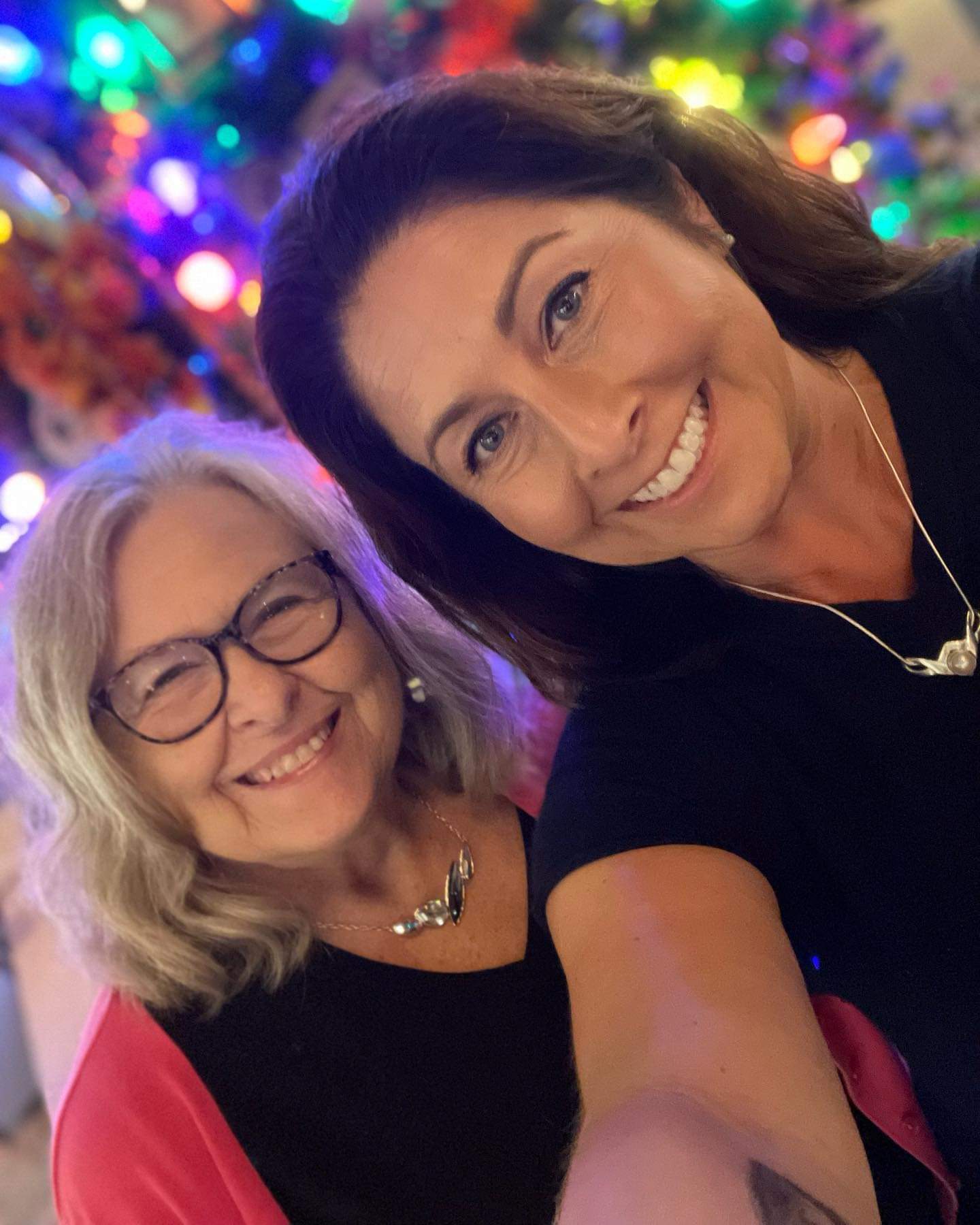 What have you been reading?
As of today, I've read 86 books in 2021 with 3 in process – Nowhere to Hide by Lyndee Walker on my Kindle, The Whistler by John Grisham in hardback, and Diana Gabaldon's Echo in the Bone (Outlander #7), on Audible in the car. I most recently finished the Dark Hours by Michael Connelly, a Bosch and Ballard story. Connelly always delivers. Have you read State of Terror by Hilary Clinton and Louise Penny? I loved the cameo by Penny's Chief Inspector Gamache. I liked the book, and it was scary to think that something like that could really happen—no spoiler here. You'll have to read it. I also read Rhys Bowen's latest Lady Georgie, a Christmas book, God Rest Ye Royal Gentleman. I enjoyed the book, but I wonder what Rhys will do next because she's getting near the war years, the death of the old king, and the subsequent abdication. Can't wait to see what Rhys does next. Another book I enjoyed was The Lost Apothecary by Sarah Penner. It's historical fiction set in two timeframes, 1791 and the present day.
What were your favorite books of 2021?
That's about it for now! Here's to 2022 and our hopes and dreams for a better year than the last and a healthy and happy new year for all. My collaborator, Lido, is ready to help me take down the Christmas tree….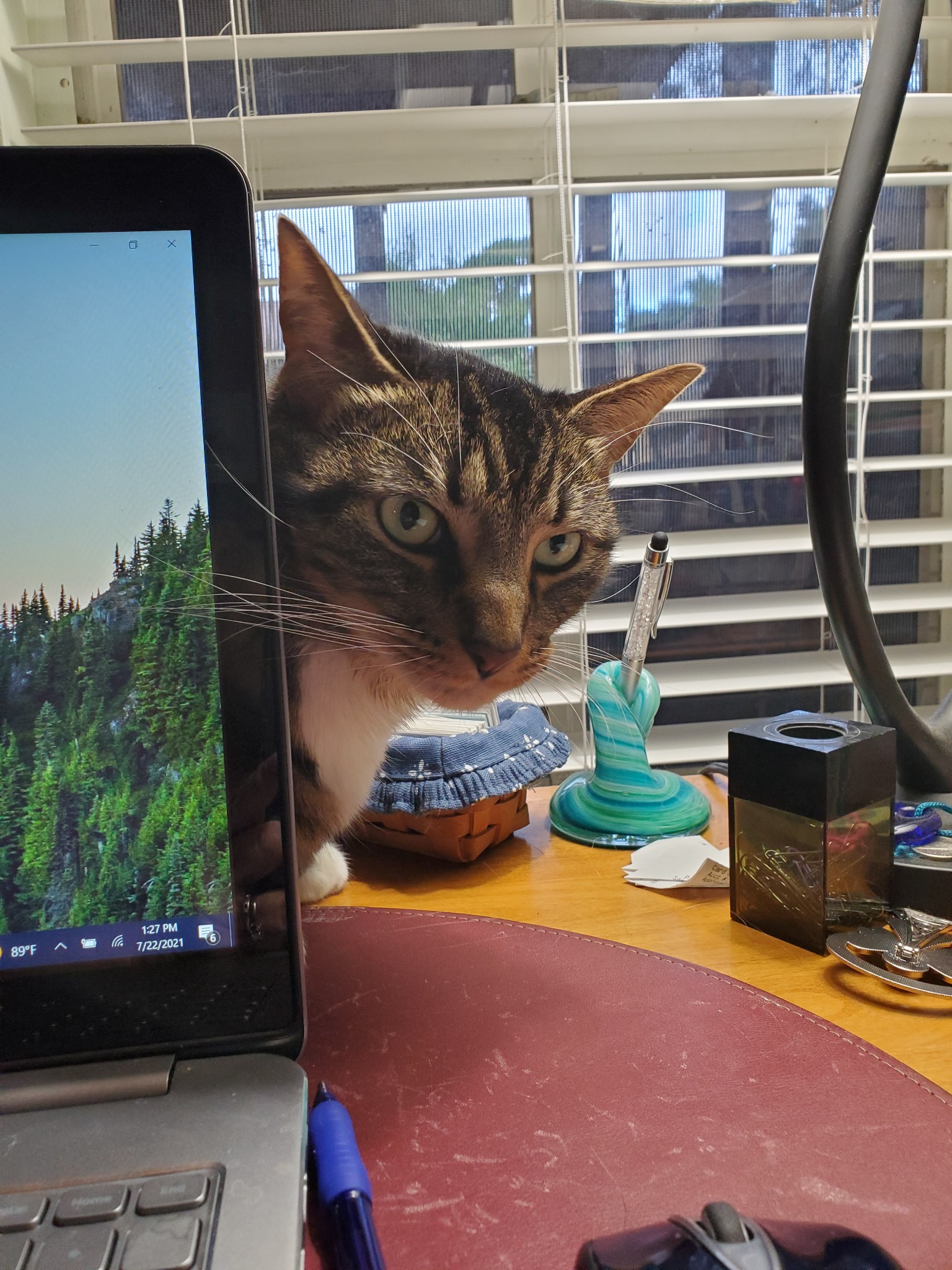 You can always reach me at teresamichaelauthor@gmail.com or through my website at https://teresamichaelwrites.pubsitepro.com or my Facebook Author page here
Please follow me on Goodreads. Teresa Michael (Author of Murder in Mariposa Beach) | Goodreads

And if you have a moment and liked my books, please leave a review on Amazon and/or Goodreads. Authors depend on reviews to get the word out about their books. It doesn't have to be long—just a sentence or two, which is greatly appreciated.

If you're not a subscriber, you can sign up for this newsletter here